Capture Referral and Repeat Business in Your Sleep, REALLY
There is a lot of noise in our daily lives. We get emails, text messages, social media contact requests, and see commercials daily. As a result, it is getting harder to meaningfully connect with others. Yet, if we do not connect, we will lose out on business, whether through referrals or repeat clients. To solve this problem, a novel company has just started:
The Firefly Co.
(
www.TheFireflyCo.com
).
A Heart-Warming Delivery from The Firefly Co.
I was personally sent a gift from The Firefly Co. and it deeply inspired and encouraged me. It was a keychain. You may wonder,
What's so game-changing and spectacular about that?
Well, it spoke to the core of what I do as a speaker, trainer and coach. On one side it said
Lead Inspire Teach
and on the other it was inscribed with my name. As the icing on the cake, a sweet note was handwritten to me:
I am so happy to have connected with you! I am inspired by your passion and look forward to getting to know you better. Thanks for your commitment to teaching!
Instead of a generic or trite gift, I was given something deeply personal that to this day (several months later) still lights up my heart and brings a smile to my face.
YOU
want that power in your business when connecting and re-connecting.
Ready to stand out from the noise and similarly impact each person you desire to touch? Keep reading to hear directly from the brainchild and owner of The FireFly Co.,
Monica Weakley
, who intimately understands the salesperson's struggle as a sales agent and Team Leader with Keller Williams. Monica shared:
There is one thing all top Realtors can agree on… the most important thing you can do to grow your business is to

lead generate

everyday! Gary Keller, Co-founder & Chairman of the Board of Keller Williams Realty says, "If you

actively & systematically

focus on

lead generation

through direct prospecting and marketing activities, you will always be prepared [for any type of market]."
That begs the question:

Which activities deliver the best return on investment?

After recently surveying 1,000 agents, the Keller Williams research team discovered this very interesting information: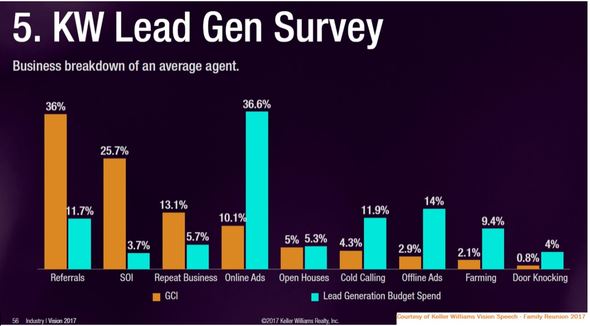 Source: Monica Weakley
We have to look at this information and ask ourselves…

Am I maximizing my lead gen dollars?

Am I focusing on the right activities?

Do I have a system and accountability for talking to my Sphere of Influence (SOI) and Past Clients?
Real estate is a relationship business but how do we build and strengthen relationships with intention? There are many ways to do this – client events, birthday/anniversary programs, client appreciation programs, etc. One of my newest services to help you accomplish this is

The Firefly Co.

Here's how it works:

The Firefly Co. researches your client/advocate to get a better idea of their passions and interests. We use the magic of the internet to scan social media sites as well as old fashion phone calls to assistants, office managers or receptionists to really understand what will touch this person's heart. Then, our Firefly team brainstorms gift ideas and will identify the perfect gift (within your budget) to mail out on your behalf [even while you SLEEP].
Imagine the difference between receiving a $7.00 plastic tchotchke with some random logo on it

vs

. receiving a framed, vintage postcard of the small town you grew up in or a personalized dog bowl with your dog's name on it. Do you show that gift to other people? Do you treasure that gift because it sparks great memories? Do you appreciate the thoughtfulness behind that gift?

Yes, Yes and Yes!
Your relationship status changes dramatically when you become a kind, thoughtful 'gifter.' It becomes more meaningful and more personal. Instead of

Tony the Realtor

or

Sarah the Loan Officer

, you will likely become Uncle Tony or Aunt Sarah… you are part of the family!
A customized gifting approach works because of the

Law of Reciprocity

. This Universal Law basically says: When someone does something nice for you, you will have a deep-rooted, psychological urge to return the favor.

Now your top clients and advocates become a powerful sales force

working for you

every day! "Awareness is fine, but ADVOCACY WILL TAKE YOUR BUSINESS TO THE NEXT LEVEL." - Joe Tripodi Chief Marketing Officer, The Coca-Cola Company. You may believe that your clients are aware of you… but are they advocates and referral machines?
Maya Angelou said it best when she said, "I've learned that people will forget what you said, people will forget what you did,

but people will never forget how your made them feel

."
How do you make your prospects and past clients feel? This feeling very well could mean the difference for your next closing.
Sound off -
I would love to hear from you! Give me a shout on
Facebook
,
Instagram
,
YouTube
, and
Google+
or by visiting
LearnWithLee.Realtor
. And, be sure to tell the real estate agents you know to get a copy of the 5-star rated workbook,
Plan to Win
, to transform their real estate sales game plan.
Here's to your success!
Tags : Monica Weakley , referrals , repeat business , The Firefly Co